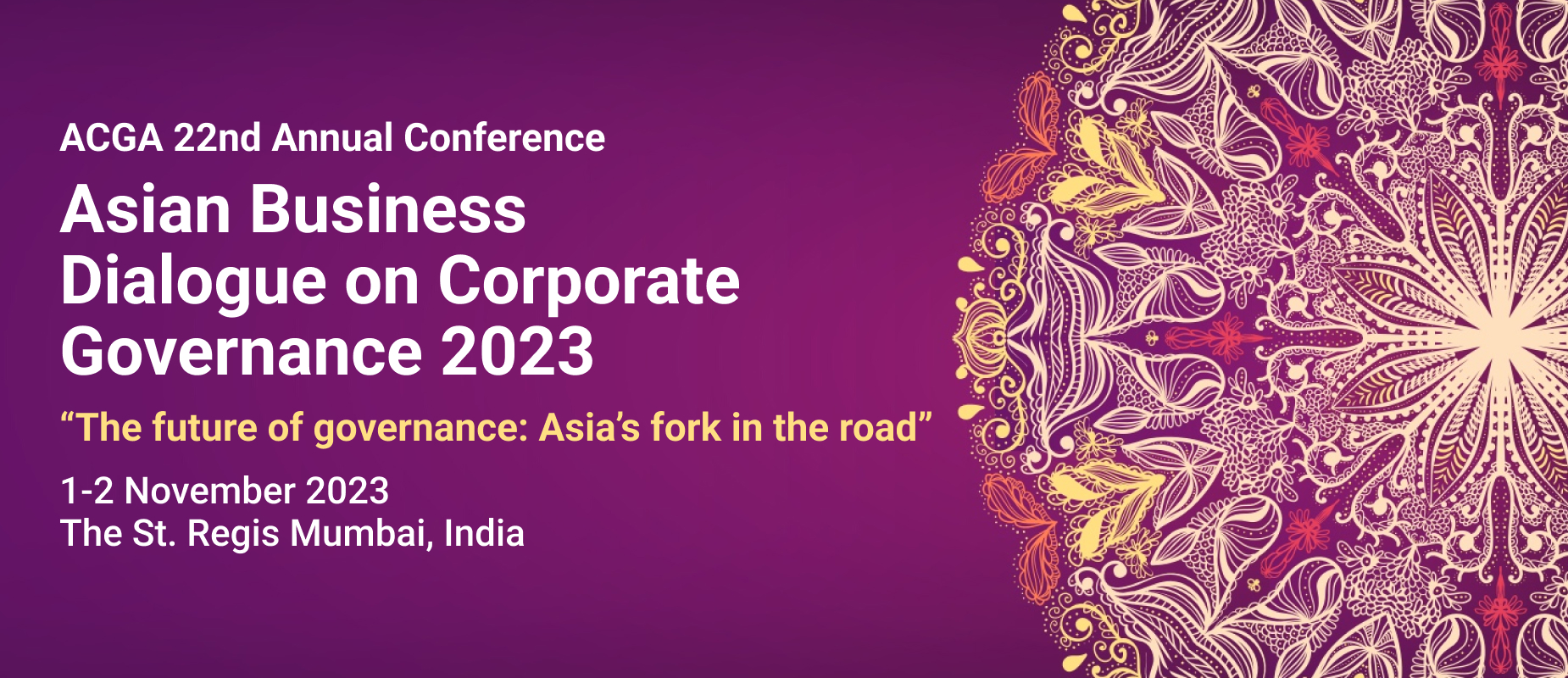 The Asian Business Dialogue on Corporate Governance
We hope you are excited at the prospect of joining us in Mumbai for the ACGA 22nd Annual Conference, the "Asian Business Dialogue on Corporate Governance 2023" that will be held at the St. Regis Hotel over 1-2 November 2023. The conference is an in-person event that will run over a day and a half. This year we will be delving into issues under the overarching theme of "The future of governance: Asia's fork in the road".
Conference Brochure
Pleae click here to download the conference brochure.
Accommodation Reservation
We are happy to announce that we have reserved a limited block of rooms at the St. Regis Mumbai with a preferential rate from 28 October (Sat) until 4 November (Sat) at INR25,500 plus tax per night. Room rate includes complimentary buffet breakfast and internet access. The preferential rate is only applicable for bookings made by 15th September, after which the rooms will be subject to hotel availability and at the best available rates. Bookings must be confirmed against valid payment card details provided at time of booking. Cancellations and amendments are free of charge until 15 September 23:59 Mumbai time. Please click here to access the St.Regis Mumbai booking link with the preferential rate.

Visa Application
India requires most nationalities to obtain a visa in advance of travel. Some passport holders are eligible to apply for an e-visa. For more details on e-visa, please click here. Hong Kong and China passport holders must apply for a business visa in person at the authorised visa application centre in their country of residence. China passport holders may require a long processing time.
If you are applying for a business visa, an invitation letter from an Indian company will be required. This year we have partnered with Institutional Investor Advisory Services India Limited (IiAS) who has kindly agreed to assist in issuing invitation letters for our conference delegates. If you need help with the invitation letter, please contact Mikky Li at mikky@acga-asia.org.
Conference Enquiries
If you have any questions about the 2023 conference, please contact mikky@acga-asia.org.