LATEST ACGA NEWS
11 May 2023
ACGA features in Financial Times: Gautam Adani retreats ...
5 May 2023
ACGA Blog: Japan's FSA steps on the gas
20 April 2023
IIA Singapore: Public Sector Internal Audit Conference
30 March 2023
New Member: Polen Capital
30 March 2023
ACGA Blog: Philippines: Rappler beats the rap
29 March 2023
ACGA features in AsianInvestor: Fund manager progress in ...
28 March 2023
ACGA Blog: Hong Kong: H shares and the new class struggle
LATEST ACGA EVENTS
16 May 2023
Spring Members' Briefing, Hong Kong
17 May 2023
Spring Members' Briefing, Singapore
22 May 2023
Spring Members' Briefing, London
6 – 7 June 2023
ACGA Investor Discussion Group (AIDG) Call No. 2
14 June 2023
China Working Group Call No. 2
16 June 2023
ACGA Annual General Meeting
Open Letter on Japan Gender Diversity in TSE Prime Market Boards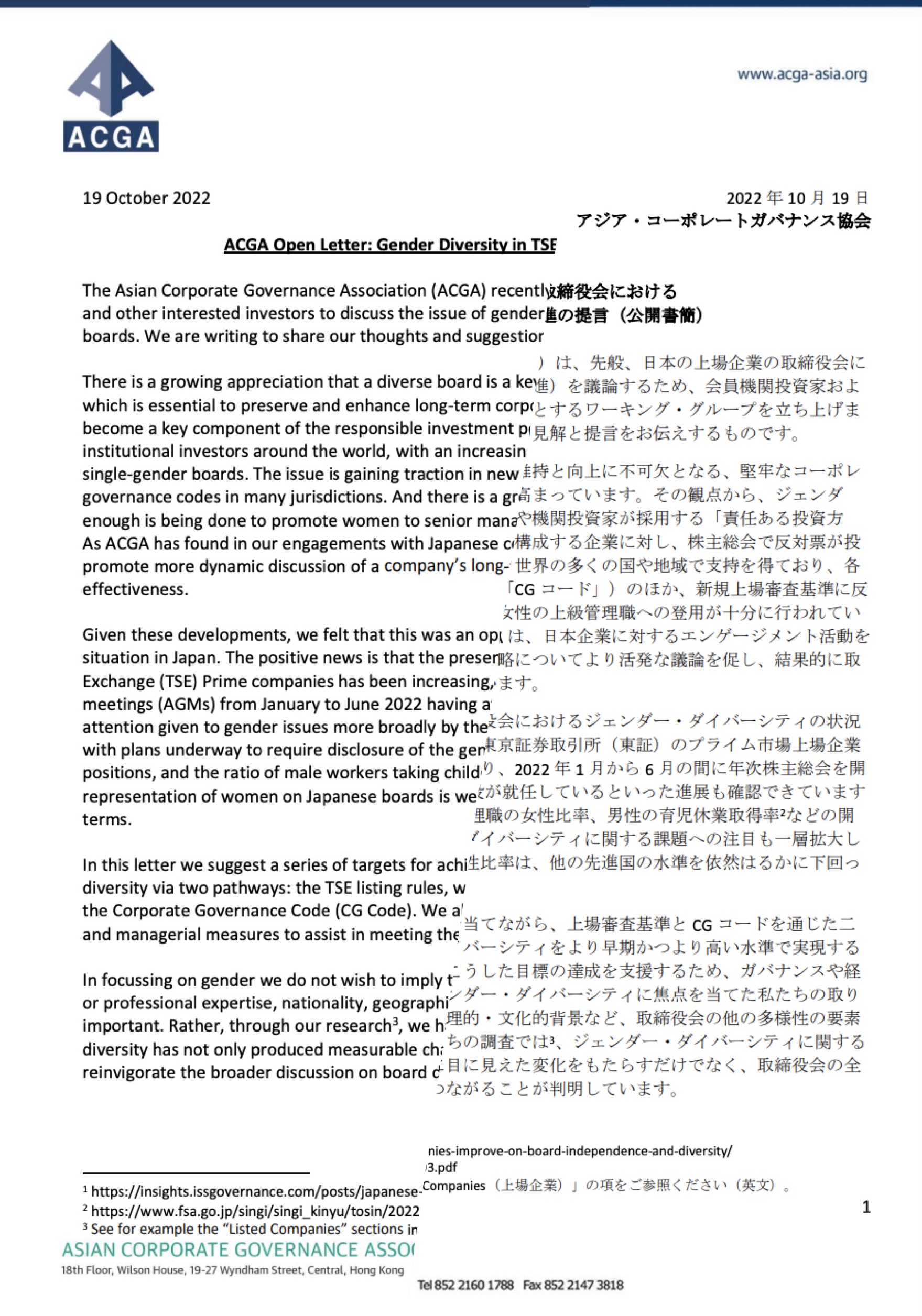 Who We Are
The Asian Corporate Governance Association (ACGA) is an independent, non-profit membership organisation dedicated to working with investors, companies and regulators in the implementation of effective corporate governance practices throughout Asia. ACGA was founded in 1999 from a belief that sound and improving corporate governance is fundamental to the long-term development of Asian economies and capital markets.
Founding Corporate Sponsor
CLSA has been a Founding Sponsor of ACGA since 2001. Its long-term support has been vital in helping the Association undertake broad-based research on corporate governance in Asia, in particular "CG Watch", the collaborative survey we carry out every two years with CLSA. We also extend our thanks to CLSA for being a Principal Sponsor of our annual conference every year since the inception of the event in 2001.