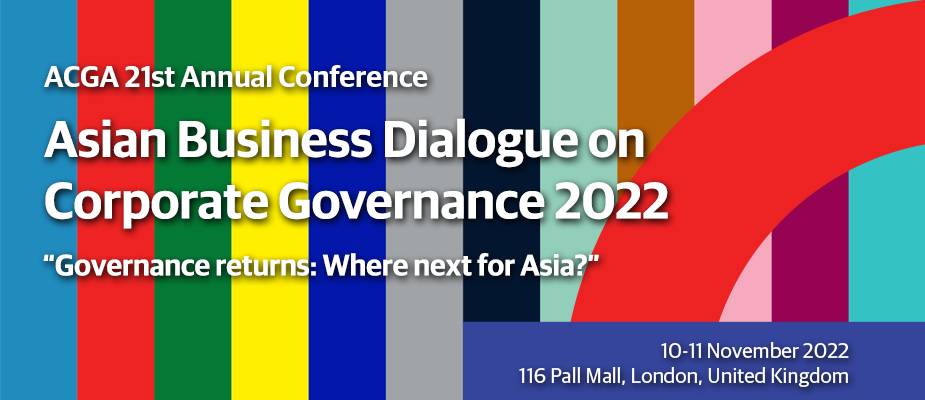 Programme
Venue: 116 Pall Mall, London, United Kingdom
*All timings are London time.
10 November 2022
09:00
Conference Opening (The Nash Room)
Morning MC
Jamie Allen, Secretary General, ACGA, Hong Kong
Opening Remarks
Steven Watson, Chair, ACGA; Partner, Capital International Investors, Hong Kong
Welcoming Remarks
Kerrie Waring, Chief Executive Officer, International Corporate Governance Network, London
09:15
Plenary 1: CG reform in Asia – The next 10 years (The Nash Room)
An introduction to the glorious complexity of corporate governance in Asia and how the region differs from other developed markets. What started CG reform in Asia? How does the large body of often-changing governance and stewardship codes cohabit with more slowly moving and conservative corporate and political cultures across the region? Do opportunistic policy decisions, notably dual-class shares and SPACs, mean the end of market fairness and accountability? Should we be hopeful about sustainability governance, board diversity, and ESG reporting? Drawing on more than 20 years of ACGA independent research and thinking about corporate governance and ESG in Asia, we will give our views on what the next decade promises.
Moderator
Steven Watson, Chair, ACGA; Partner, Capital International Investors, Hong Kong
Speakers
Jamie Allen, Secretary General, ACGA, Hong Kong
Seungjoo Ro, Head of ESG Research, CLSA, Hong Kong

Yoo-Kyung Park

, Head of Responsible Investment & Governance, Asia Pacific, APG Investments Asia, Hong Kong

Nana Li

, Head of Sustainability & ESG, Asia-Pacific, Impax Asset Management, Hong Kong
11:15
Plenary 2: Are stewardship codes working in Asia? (The Nash Room)
A panel discussion on how investor stewardship codes, first introduced in the region in Japan in early 2014, have changed the dynamic between listed companies and investors. Where have codes flourished most successfully and why? Do codes need to be tailored more carefully for each market? Are there other limitations? How does collective engagement work in the region and what are some of the main challenges? With several codes being revised every few years, what does the next chapter look like?
Moderator
Devanesan Evanson, Chief Executive Officer, Minority Shareholders Watch Group (MSWG), Kuala Lumpur
Speakers
Karin Ri

, Director, Responsible Investment & Stewardship, Asset Management One International, London

Sharmila Gopinath

, Specialist Advisor, India, ACGA, Kochi
13:30
Stream A, Workshop 1: After Abe – charting a new way forward (The Burton Room)
The assassination of Shinzo Abe in summer 2022 marked a profoundly sad end for one of Japan's greatest reforming prime ministers of recent decades. In power from 2012 to 2020, Abe presided over a structural and philosophical rethink of corporate governance and introduced policies thought impossible just a few years earlier. Part of his government's genius was to link CG reform not to risk management—as in other markets where governance is a necessary corrective to excessive corporate risk taking—but to the long-term growth of corporate value and the revitalisation of an underperforming economy. Abe and his officials saw that Japan was part of an international capital market, which it had to meet half way. No more arguments about Japanese exceptionalism and special treatment. Indeed, under Abe, Japan led the way on some aspects of CG and ESG policy in Asia.
Despite Abe's achievements, there remain many areas of unfinished business in ESG reform in Japan. This workshop will outline these challenges and debate the probability of progress under the current government of Fumio Kishida. There will also be an opportunity for delegates to participate in small group discussions and give your views on how Japan should proceed with its next stage of reform.

Moderator
Chris Vilburn, APAC Head of Stewardship, Goldman Sachs Asset Management, Tokyo
Speakers
Kei Okamura

, Portfolio Manager, Japanese Equities, Neuberger Berman East Asia, Tokyo (by video)

Shizuko Ohmi

, Executive Director, Japan Head of Investment Stewardship, J.P. Morgan Asset Management, Tokyo
13:30
Stream B, Workshop 1: Company engagement with Asian characteristics (The Nash Room)
Investor efforts to engage listed companies in Asia have grown exponentially over the past decade. Key drivers include domestic stewardship codes, the responsible investment agendas of major institutions, and opportunities for activism created by corporate failure or mismanagement. What, if anything, makes Asia different? Why are some companies so much harder to engage with than others? Why are some markets so much tougher to engage in than others? We also explore the missing link—regulatory and policy advocacy.

This workshop will draw on ACGA's experience in working with members since 2017 on collective engagement with listed companies, first in Japan and Korea and more recently in China and Hong Kong. How have engagement strategies evolved? What does our report card look like? What comes next?
Moderator
Mike Lubrano, Managing Director, Valoris Stewardship Catalysts, Washington DC
Speakers
Jocelyn Brown

, Head of Governance, EMEA & APAC, T. Rowe Price International, London

Yoo-Kyung Park

, Head of Responsible Investment & Governance, Asia Pacific, APG Investments Asia, Hong Kong

Gareth Hewett

, Head of International ESG and International PR, Ping An Group, Hong Kong (by video)
15:30
Stream A, Workshop 2: How is Asia getting ready for global sustainability reporting standards? (The Nash Room)
As the world gears up to welcome new sustainability reporting standards from the International Sustainability Standards Board (ISSB), we take a look at how Asia is responding to the challenges posed. How do accounting and financial regulators, listed companies, auditors, investors and other stakeholders view the standards? What does each group need to do to prepare? Which markets are likely to lead the way? And how will the new ISSB standards align with existing ESG reporting guidelines in Asia?
While ISSB aims to set a "global baseline" for sustainability reporting, the draft standards produced to date—on general requirements and climate-related disclosure, both based on the TCFD framework and with a strong focus on enterprise value—already set a higher bar than most existing standards around the region. Leading markets in ESG reporting, such as Japan, Taiwan and Singapore, are beginning to promote or require the use of TCFD reporting, while Malaysia and Hong Kong are not too far behind. Although the region has made considerable progress over the past few years, there has been limited discussion to date of the importance of incorporating climate-related matters and potential impact on the financial statements.
This workshop will explore these developments and is designed to give delegates a thorough briefing on this important new aspect of corporate disclosure.
Moderator
Julia Tay, Partner, Asia-Pacific Public Policy Leader, EY, Singapore
Speakers
Hendrik Rosenthal

, Director, Group Sustainability, CLP Holdings, Hong Kong

Kathlyn Collins

, Vice President, Head of ESG, Matthews Asia, San Francisco

Rick Wang

, Director, Taiwan Financial Supervisory Commission London Office
15:31
Stream B, Workshop 2: Crooks, kickbacks and cronyism – corruption and financial crime in Asia today (The Burton Room)
A funny thing happened on the way to the airport: famous Malaysian airline bribes Airbus officials, gets caught and fined in the UK, Europe and the US, but not a squeak is said at home. While such cross-border enforcement remains comparatively rare in the region, it is increasing and many of the highest profile anti-corruption cases have involved foreign agencies prosecuting Asian firms doing business overseas. This begs the question as to where were the domestic enforcement agencies? Where is the political will on graft? Do anti-corruption agencies have sufficient powers, autonomy and budgets to curb malpractice?

The evidence paints a somewhat rosier picture on the enforcement of securities crimes and market misconduct, especially in the region's leading markets. But even here it is often hard to interpret where markets are making gains or sliding, since the statistics and narrative provided by securities regulators are often opaque. Corporate secrecy has been made easier in certain places and restrictions on civil society and media have been tightened. Meanwhile, the shift from criminal to civil sanctions means that the punishment does not always fit the crime.
Moderator
Jane Moir, Head of Research, ACGA, London
Speakers
Mark Francis

, Director of Wholesale and Unauthorised Business Investigations, Financial Conduct Authority, London

Isabelle Scherf

, Global Head of Financial Crime Compliance, Fidelity International, Luxembourg (by video)

Christopher Leahy

, Specialist Advisor, Southeast Asia, ACGA; Managing Director, Blackpeak, Singapore
17:00
Cocktail Reception, The Waterloo Room
11 November 2022
09:00
Conference Opening (The Nash Room)
Morning MC
Jane Moir, Head of Research, ACGA, London
Opening Remarks
Jenn-Hui Tan, Global Head of Stewardship & Sustainable Investing, Fidelity International, London
09:15
Panel 1: The governance of energy: It's electric (The Burton Room)
Like much of the industrial world, Asia is undergoing a complicated transition from a fossil fuel-based energy system to one where renewable generation will play an increasingly large role. One key to the transition is sound government policy that sets clear targets for the decarbonisation of national economies in phases to 2050 and creates the right incentives for significant new investments and emission reductions needed by 2030. Another key is innovative action and investment on the part of energy companies. These two factors are mutually dependent, but when they are out of synch governance fundamentals are critical. This session will focus on selected energy transition case studies from Asia and discuss how they are progressing, the governance and regulatory challenges, as well as risks and opportunities for investors.
Moderator
Melissa Brown, Specialist Advisor, ACGA; Director, Daobridge Capital, New York
Speakers
Marty Syquia, Deputy Chief Financial Officer, ACEN Corporation, Manila (by video)
Putra Adhiguna

, Energy Economics & Policy Specialist, Institute for Energy Economics and Financial Analysis (IEEFA), Jakarta

Toru Kubo

, Director, Energy Division, Southeast Asia Department, Asian Development Bank, Mandaluyong City (by video)
09:15
Panel 2: Shareholder proposals in Asia: It's complicated (The Nash Room)
Long neglected at the bottom of the shareholder rights toolbox, the shareholder proposal is finally emerging as a device to be reckoned with in Asia. Japan is the scene of most activity in the region, yet other markets such as Korea, Malaysia and Taiwan are also seeing more interest from retail and institutional investors. This session will draw on recent practical experiences of investors as they grapple with the challenges of filing, and seeing through, shareholder proposals across the region. We will discuss the legal and procedural impediments to mounting a challenge. Consider tactics 101: choosing your battle, where to employ stamina, grit and staying power. Examine where shareholders are having a bigger say: static vs dynamic markets. And ask whether it is all worth it? Come and hear the battle stories of investors trying to build a better system. Learn how to navigate both the rules and the reality.
Moderator
Jane Moir, Head of Research, ACGA, London
Speakers
Sachi Suzuki

, Senior Stewardship Specialist, HSBC Asset Management, London

Jaime Gornsztejn

, Director, Stewardship and Corporate Governance, Federated Hermes EOS, London

Peter Barnett

, Head of Asia Climate and Energy, ClientEarth, London
11:00
Closing Plenary: China – Risk on, risk off, what next? (The Nash Room)
When MSCI announced a partial inclusion of China A shares in three of its indices in 2018 it was seen by many as a signal that the country's capital market had truly arrived. Great things were expected. What happened next was mostly not foreseen: a new virus appeared in Wuhan; Jack Ma spoke out and the Ant IPO was suspended; an anti-trust law designed to control tech giants was proposed, followed by stricter cyber security controls and the suspension of the Didi IPO in New York; and the listed educational sector was harshly reined in. Motivating these rapid policy changes were concerns on the part of Beijing about defending national security, encouraging domestic competition, and promoting common prosperity. Then came the collapse of a hugely indebted property giant, more provincial bank frauds, and news about large corporate donations.
With the dust hopefully starting to settle, what kind of capital market and economy is emerging? What are the priorities of key financial and business regulators over the coming year? How is China's industrial policy evolving, especially in the area of high-tech, semiconductors, and electric vehicles? What are the implications for state-owned enterprises? Can foreign investors expect a more stable policymaking environment going forward? And what is the status of ESG reporting? This panel will debate these issues and consider them in light of the recent 20th Party Congress in October, the third term for Xi Jinping, and current geopolitical tensions with the West. It will also touch on how China compares with Asia's other major emerging economy—India.
Moderator
Yuan Yang, Europe-China Correspondent, Financial Times, London
Speakers
Nana Li

, Head of Sustainability & ESG, Asia-Pacific, Impax Asset Management, Hong Kong

Natalie Cade

, Managing Director, Head of China 360 Research, UBS, Hong Kong (by video)

Tom Miller

, Senior Asia Analyst, Gavekal Research, Oxford
14:00
ACGA Town Hall, The Waterloo Room (for ACGA members only)