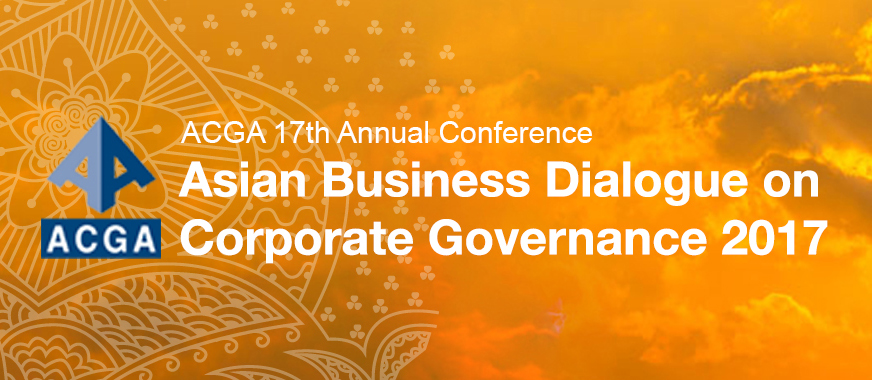 Programme
14 November 2017
08:00
Conference Registration
Delegates may register and collect their name badge near the entrance to the Golconda Ballroom.
09.00
Conference Opening
Morning MC
Mr. Douglas Henck, Chairman, ACGA, Hong Kong
09:15
Opening Dialogue with the Securities and Exchange Board of India (SEBI)
An informal discussion with Mr. Ajay Tyagi, who took up the post of chairman of the Securities and Exchange Board of India in March 2017. Topics will include the plans for a new investor stewardship code, enforcement goals and other challenges and opportunities for corporate governance in India.
Moderator
Mr. Jamie Allen, Secretary General, ACGA, Hong Kong
Speaker
Mr. Ajay Tyagi, Chairman Securities and Exchange Board of India, Mumbai
10.00
Plenary 1: Asia Overview, India Focus
A regional corporate governance overview based on ACGA research, including an analysis of what has changed in India since our last conference in 2008. This will be complemented by a deeper look at domestic issues and trends from a leading Indian corporate governance expert.
Speakers
Mr. Jamie Allen, Secretary General, ACGA, Hong Kong
Mr. Sandeep Parekh, Managing Partner, Finsec Law Advisors, Mumbai
11.30
Plenary 2: The ACGA Debate – "Only minority shareholders should be allowed to vote on independent directors"
With institutional investors increasingly concerned about the quality and independence of independent directors in Asia, some experts suggest that their election should be restricted to independent minority shareholders only. Others counter that this would be impractical and unfair to controlling shareholders. Our lively debate will help to clarify the issues on both sides!
Moderator
Mr. Mike Lubrano
Managing Director, Corporate Governance and Sustainability, Cartica Management Washington DC
Debaters
Mr. Jaideep Singh Panwar
Global Responsible Investment and Governance, APG Asset Management Asia, Hong Kong

Ms. Vladislava Ryabota
Regional Corporate Governance Lead, South Asia, International Finance Corporation Mumbai
12.30
Lunch – Restaurant O22, Ground Floor, Trident Hotel
14.00
Afternoon Workshops Overview
Next Steps for Ecosystem Enhancement in Asia
The concurrent workshops will be structured around our conference theme of "Nurturing Corporate Governance Ecosystems in Asia". Four workshops of 90 minutes each will be held, with each taking a major stakeholder group as the focal point for discussion. Each workshop will be led by a facilitator and have one to two speakers to spark discussion. The room will then be divided into small-group discussions on different topics, with each table reporting back at the end. Our objective is to generate ideas about next steps for corporate governance reform in Asia.
14.00
Concurrent Workshops, Session 1
14.01
A. Investor Workshop
Investors face a range of challenges in addressing corporate governance and ESG risks in Asia. Expectations are rising with the emergence of "stewardship codes"—now in eight markets—that call upon institutions to be active owners and engage with companies. Yet many listed companies are not ready to engage at the high level that institutions want—meetings with directors, including independent directors—and disclosure on governance is often insufficient. Conversely, some companies believe that much engagement is box-ticking and investors are not adequately resourced to be effective stewards. To what extent do current commercial realities determine the scope and quality of investor stewardship in Asia? How do investors balance their focus on E, S and G issues?
Facilitator
Ms. Hetal Dalal
Chief Operating Officer, Institutional Investor Advisory Services, Mumbai
Speaker
Mr. Arnout van Rijn
Chief Investment Officer Asia Pacific, Robeco Hong Kong
14.01
B. Regulatory Workshop
Competition between markets, rapid changes in information technology and the increasing complexity of enforcement is putting unprecedented pressure on financial regulators around the region. At the same time, regulators face perennial constraints in terms of funding, HR capacity and recruitment, and challenges posed by the often uncertain government support for high standards of corporate governance. How do securities regulators improve the quality and focus of enforcement? Can they resist a "race to the bottom" over dual-class shares, an issue of great concern today to investors in Asia? Conversely, does Asia have an opportunity to set the global benchmark in any aspect of corporate governance?
Facilitator
Ms. Melissa Brown
Partner, Daobridge Capital, Hong Kong | Specialist Consultant, ACGA, Hong Kong
Speaker
Mr. Michael Duignan
Senior Director, Securities and Futures Commission, Hong Kong
16.00
Concurrent Workshops, Session 2
16.01
A. Listed Company Workshop
With corporate governance codes being revised around the region, the advent of investor stewardship codes and a heightened focus on ESG and sustainability, including climate change, the demands on boards and directors have never been greater. This workshop will address a range of topical issues facing companies in Asia: board leadership for sustainability; succession planning and board diversity; individual director skill and competence; and how to improve disclosure on governance and ESG. Meanwhile, to what extent should boards develop competence on climate change and cyber risk?
Facilitator
Mr. Peter Butler
Partner Founder Emeritus, GO Investment Partners, London

Speakers
Mr. Cyril Suresh Shroff
Managing Partner, Cyril Amarchand Mangaldas, Advocates & Solicitors, Mumbai

Mr. Mario Abela
Director, Redefining Value, World Business Council for Sustainable Development, London
16.01
B. Auditor Workshop
The focus on accounting and audit in Asia has expanded rapidly in recent years with the strengthening of independent audit regulation, the publication of extended auditor reports, and rising expectations of audit committees. What are the main challenges—technological, financial, HR—facing auditors and audit firms in region? How are sophisticated investors gaining greater comfort in the quality of auditing across different markets? What more should audit committees be doing to enhance audit quality and investor understanding of company financials? Are companies investing enough in basic accounting capacity and technology?

Facilitator
Ms. Julia Tay
Partner, Asia-Pacific Public Policy Leader, EY, Singapore
Speaker
Ms. Pru Bennett
Director, Head of Investment Stewardship APAC, BlackRock, Hong Kong
18.00
Cocktail Reception – Colosseum, Second Floor, Trident Hotel
19.00
Gala Dinner – Golconda Ballroom, First Floor, Trident Hotel
Ms. Shaheen Mistri, Chief Executive Officer, Teach for India, will deliver the Gala Dinner address. The theme of her speech is: "What I Have Learned From Children"
15 November 2017
08:00
Start the Day
A discussion of the main ideas emerging from each of the four workshops on day one. Workshop facilitators will present the most interesting points, followed by Q&A.
09:00
Day 2 Welcome
Morning MC
Ms. Ka Shi Lau, BBS
Managing Director and CEO, BCT Group, Hong Kong | Council Member, ACGA, Hong Kong
09:15
Morning Panel Discussions
Parallel panels will focus on two key Asian markets—India and China—delving deeply into public and corporate governance trends in both countries, issues of relevance to investors, companies, auditors and regulators. What is special or different about the corporate governance culture and system of each? How do the governments of China and India balance competing demands around capital market development and CG reform? How is the new dynamic around ESG and sustainability shaping the corporate governance landscape?
09:16
Panel Discussion – India Market Focus
The India panel will further examine new policy developments in India (including the report from the new CG Committee formed by SEBI), the use of mandatory rules in certain key areas rather than "comply or explain" (and how listed companies are responding), the rapid emergence of e-voting and voting by poll, the emergence of investor stewardship, bank governance, and other issues of relevance to companies and investors.
Moderator
Mr. Rahul Bhasin
Managing Director, Baring Private Equity Partners (India), Gurgaon
Speakers
Mr. Amit Tandon
Managing Director, Institutional Investor Advisory Services, Mumbai

Dr. V R Narasimhan
Chief Regulations, National Stock Exchange of India (NSE), Mumbai
09:16
Panel Discussion – China Market Focus
The China panel will further examine the new direction of SOE reform, the enhanced role envisaged for Party Committees in listed companies, and governance challenges in the M&A process (both in China and for outbound investment). The diversity of governance systems among privately owned firms and new CG policy developments will also be examined. This session will draw on key conclusions from a new "ACGA China Corporate Governance Report".
Moderator
Mr. Jamie Allen
Secretary General, ACGA, Hong Kong
Speakers

Mr. Vincent Poizat
Senior Manager, Risk Advisory, Deloitte Touche Tohmatsu, Tokyo

Ms. Nana Li
Project Manager, ACGA, Hong Kong
11.00
The Chairman's Dialogue
A high-level discussion on the question, "Why do so many listed companies in Asia still view corporate governance as a compliance exercise?" Panellists will examine a number of possible underlying causes: top-down regulatory style and philosophy; business culture and organisational inertia; the increasingly short-term focus of financial markets; and the inherently legalistic and abstract language used to describe corporate governance.
Moderator
Mr. Douglas Henck
Chairman, ACGA, Hong Kong
Speakers:
Mr. Nicholas Allen
Independent Director, CLP Holdings, Hong Kong

Mr. Leo Puri
Managing Director, UTI Asset Management Company, Mumbai
12.30
Closing Session
Reporting back from the morning panel discussions and conference closing remarks.
12:45
Lunch – Golconda Ballroom, First Floor, Trident Hotel
Conference ends for public participants.
14:30
Annual Town Hall (ACGA Members Only)
ACGA members are invited to join our annual Town Hall meeting to discuss progress made in 2017 and our work programme for 2018. This will take place in the Golconda Ballroom on the First Floor of the Trident Hotel.