Blog
India: stewardship is more than just voting
by Sharmila Gopinath, ACGA
Scrutiny of the stewardship activities of India's leading funds and insurers reveals boilerplate codes and cursory reports, writes ACGA Specialist Advisor Sharmila Gopinath.
Stewardship is a relatively new concept in the Indian capital market and codes are even more recent, with the securities regulator only issuing one for mutual funds and alternative investment funds in 2019. The Insurance Regulatory and Development Authority of India (IRDAI) and the Pension Regulatory and Development Authority were quicker off the mark, issuing ones for their sectors in 2017 and 2018, respectively. However, insurance companies were only required to vote in a limited capacity from 2020 onwards. Based on the 2012 UK Stewardship Code, all three stewardship codes clearly articulate the seven principles and provide guidance on how to implement them.
With domestic institutional investors having enormous skin in the game, stewardship has become a necessity. Assets under management (AUM) of the mutual fund industry, according to the Association of Mutual Funds in India, has quintupled in a decade: from Rs. 7.93 trillion (US$95.91 billion) on 30 November 2012 to Rs.40.38 trillion by 30 November 2022. The number of accounts under equity, hybrid and solution-oriented schemes was 111.8 million in November 2022. Meanwhile, the scale of the other large domestic institutional investor, the insurance industry, stands at US$131 billion as of the 2022 financial year. According to media reports, the industry turned net buyers of Indian stocks in 2020, accounting for 40% to 45% of the Rs.1.5 trillion equities purchased by local institutional investors since 2020.
It is too early, however, to say the codes are effective, especially for mutual funds. Scrutiny is however possible in two areas: are they being implemented, and are institutional investors reporting on their stewardship activities for the year? The short answer is a qualified yes to both questions. We took a look at the leading mutual funds and insurance companies in the market to get a clearer picture.
Wherefore art thou, codes and reports?
Locating codes or reports on most websites is akin to playing a game of hide-and-seek, with one's best search tool being Google, with only two providing details on their main page. But even when found, the majority of codes are formulaic, rarely adding anything substantive to the guidance provided by the Securities and Exchange Board of India (SEBI) or IRDAI.
For example, we found only some insurers and even fewer mutual funds to provide a threshold for monitoring investee companies, and outline the catalysts for a decision to intervene with a particular issuer. While the regulators provide specific guidance on monitoring investee companies, it was something investors could expand on to tailor for their particular circumstances. Yet most have chosen to simply copy and paste the guidance.
The reports on investors' stewardship activities are far worse. One or two insurance companies provided a sparse public report prior to revised guidelines in 2020, following which all of them only provided voting reports. Mutual funds, on the other hand, seem to be doing a better job in figuring out how to report, with most doing a basic table setting out their compliance with the stewardship code. Typically, this lists the relevant principle of the code and confirmation that the fund has complied with it.
We did locate two funds, however, who provided a more comprehensive report, one in the 2021 financial year by SBI Funds Management and the other by Kotak Mahindra Mutual Fund during the December 2021 to March 2022 period. SBI Funds Management listed the number of corporate engagements it carried out, broken down into interactions: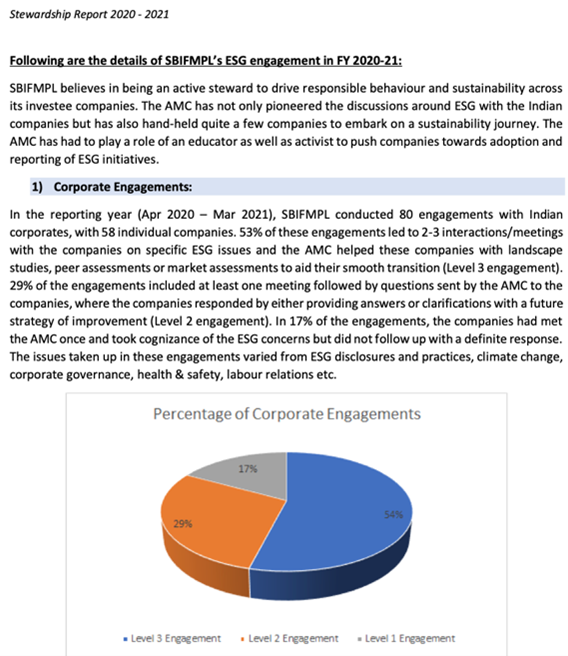 Source: SBI MF stewardship report 2020-21
Kotak Mahindra Mutual Fund, meanwhile, gave an example of engagement with a power company, including the background, key issues and action taken: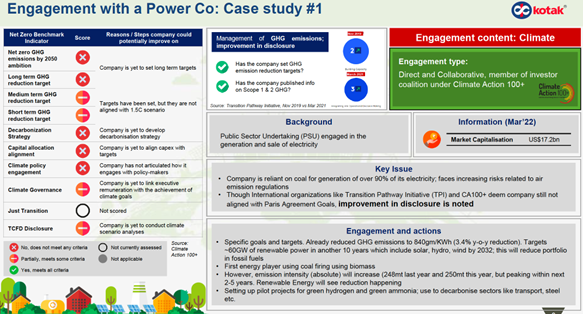 Source: Kotak Mahindra Mutual Fund Stewardship report Dec 2021-Mar 2022
Disappointingly, since disclosing these specifics, neither fund has published another stewardship report, at least not one that can be found in the public domain.
Progress with voting
The one area where institutional investors (particularly mutual funds) have made progress is with voting reports, but this can be largely credited to a regulatory push. The manner in which they report and the reasons behind their votes are provided because the regulator mandated it. It does beg the question as to whether the regulator will have to continually step in to provide granular detail on how investors should write codes and report on their stewardship activities—and if the industry does not take the lead, the assumption is that the regulator will continue to force it upon them. Insurance companies are also beginning to publish more comprehensive voting reports, but institutional investors must be cognisant that stewardship involves much more than voting.
Looking ahead
Given the risk of regulatory tightening, institutional investors and their advisers would be wise to up their game: for starters, codes and reports should be easily accessible on websites. Reports need to provide a discussion on how the investors are meeting their obligations.
Many of these firms have responsible investment policies, and it would be helpful to provide a link to these either in their stewardship codes or their reports. If they belong to other investor forums that provide a platform for collaboration with peers, that should also be disclosed.
These are only some of the many ways in which domestic institutional investors can show that they are serious about their stewardship duties. It should not be up to the regulator to step in, revise the code and provide a more stringent framework for institutional investors to use.
Leave a Comment
Your email address will not be published. Required fields are marked *
Download File Disclaimer
In addition to the ACGA website disclaimer access to the "Members' Area" of the ACGA website is subject to the general disclaimer and content attribution statements below.
General Disclaimer
By logging into our Members' Area you acknowledge that all materials displayed on the site or made available for download are for the exclusive use of ACGA members. You may not share the content with parties outside of your organisation.

Content Attribution
The copyright ownership of all material on our website belongs to ACGA. Should you wish to use any materials in the course of your corporate research, including directly quoting or paraphrasing sections, reprinting, reproducing or the like, we request that you give proper acknowledgement to ACGA and share a copy with us. Please email jamie@acga-asia.org.